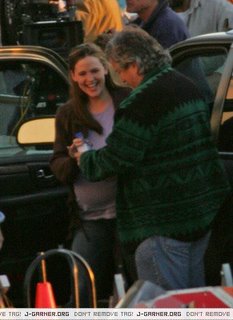 Alias
star Jennifer Garner is preggo again...but only as Sydney Bristow. Garner is back (with a belly pad) on the set this week folks and that means our predictions for a March 2 return are correct. YAHOO!! She is seen here, setting for a car scene, which leads me to believe that she gets off the barge without giving birth.
Are you not jumping up and down with glee? I am! PEOPLE,
WE HAVE 30 DAYS!!
30 I SAY!!
Aside from Amy Acker, as Kelly Peyton, the cast of Alias will have a new regular very soon. Baby Bristow-Vaughn is on the verge of making his/her debut, and with mama running after terrorists and daddy off doing who-knows-what, this kid can only look forward to a life of excitement! So, birth predictions??? There are rumors Jack will be there. There are rumors that one of the characters will have to deliver! Is it a boy, is it a girl? Let's rock and rattle!
PS. There has been word that ABC has left Alias off of their spring line-up. DO NOT PANIC! There are several explanations:
1. ABC has not yet finalized their schedule and are debating about which day and timeslot is best for the spy drama.
2. Perhaps Alias has been picked up by another network and that information has not been released as of yet.
3. Or perhaps the show isn't returning until later.
HANG IN THERE!
Thanks to
www.j-garner.org
for the picture!